静岡知事 「飲用茶にすれば問題ない」 仏での放射性物質検出受け
The Governor of Fukuoka "If you make tea from it, and drink it, it's fine" RE the discovery of radioactive materials in a local tea export to France
1 名前:
依頼710(大阪府)
:2011/06/18(土) 21:23:53.71 ID:b8usxEcl0 ?PLT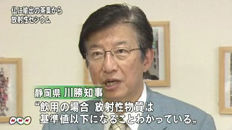 「仮に製茶の数値が1千ベクレルだとしても飲用茶にすれば10ベクレル程度になる。飲んでもまったく問題ないと考える」と県の独自調査の結果
を示して安全性を強調。その上で「情報を確認し、早急に輸出ルートを調査する」とした。
"Even if the produced tea had ratings of 1000 Bq, if you dilute the tea in boiling water like you would to drink it, it comes out to only 10 Bq. It's perfectly fine to drink." say the results of an individual study within the prefecture reinforcing the safety of their local products.
Furthermore the governor announced that he would "secure the information, and expediently monitor the export routes."
http://www.asahi.com/national/update/0618/TKY201106180410.html
Let's see the Japanese response!
2 :名無しさん@涙目です。(不明なsoftbank):2011/06/18(土) 21:25:11.09 ID:ONzkdYoR0


これが放射脳か。

So this is the effect of radioactivity on the brain!

3 :名無しさん@涙目です。(山形県):2011/06/18(土) 21:25:20.44 ID:6gRWP9510


黙れ川勝

Shut up Kawakatu!

9 :名無しさん@涙目です。(関西地方):2011/06/18(土) 21:26:46.83 ID:U5sjLN9/0


高濃度汚染茶 うめぇええええええええええwwww
Mmmm delicious highly contaminated tea

11 :名無しさん@涙目です。(東京都):2011/06/18(土) 21:27:07.62 ID:8o3eftcZ0
飲んでも問題ないとかそういうことじゃねぇだろ
なんで出荷輸出してんだよ

16 :名無しさん@涙目です。(千葉県):2011/06/18(土) 21:28:15.91 ID:bEcoxlIN0


そんな理屈が国際的に通用するのか?
Do you think this logic will pass on the international stage?



17 :名無しさん@涙目です。(神奈川県):2011/06/18(土) 21:28:24.33 ID:3oeDqUZb0
もういい加減このおっさん黙らせろよ、静岡人は
Would the people of Fukuoka please shut this old man up!