東京スカイツリー、450mで大人3000円
東京スカイツリー、2012年5月22日に開業へ 第1展望台の入場料は大人2,000円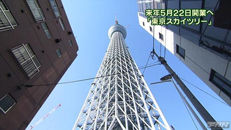 東京スカイツリーを運営する東武鉄道は、東京スカイツリーの開業日を2012年の5月22日にすると発表した。発表によると、東京スカイツリーは2012年5月22日に開業し、営業時間は午前8時から午後10時を予定してるという。

また、あわせて展望台の入場料金なども発表され、高さ350メートルの第1展望台は、
大人が2,000円、高校生と中学生は1,500円、小学生900円、幼児600円などとなって
いる。また、450メートルの高さの第2展望台へは、大人の場合、さらに1,000円の追加料金
が必要になるという(追加料金は高校生・中学生800円、小学生500円、幼児300円)。

東京スカイツリーは、2011年3月に、自立式の電波塔としては世界一の
高さ634メートルに到達し、現在、内装部分の工事などが行われている。
http://www.fnn-news.com/news/headlines/articles/CONN00200963.html
This is the news story that the famous Tokyo Sky Tree will be open for business on May 22, 2012.
The Entrance fees are also listed, started with Adults 2000¥ to Small Children 600¥
There is an additional 1000yen to go beyond 350 meters above ground level
Let's see the Japanese reaction to this news story
2 :名無しさん@涙目です。(dion軍):2011/06/07(火) 14:18:13.85 ID:K+zwzoQ40


たけーよw That's Up There! (the price)



7 :名無しさん@涙目です。(埼玉県):2011/06/07(火) 14:18:46.08 ID:3cMltK+j0


ボッタクリキター It's HIGHway robbery



9 :名無しさん@涙目です。(catv?):2011/06/07(火) 14:18:57.16 ID:/bqgOkIX0


高いし高い The prices and height are astronomical



11 :名無しさん@涙目です。(チベット自治区):2011/06/07(火) 14:19:12.56 ID:cYFHJi0B0
くそたけえw
値段も日本一の世界一! Fucking Expensive! The Price is the Highest in Japan, and in the world.

12 :名無しさん@涙目です。(不明なsoftbank):2011/06/07(火) 14:19:13.87 ID:YhutNu4L0
追加料金ワロタ
貧乏人は低いとこで十分っていうことかカスすぎるな
LOL an additional fee?
I guess the lower floors are good enough for poor people, huh? Bastards!
What are your comments?