防衛省が開発した「空飛ぶ球体」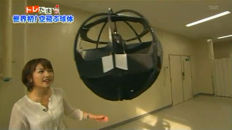 商品名
球形飛行体

商品の特徴
正確には商品ではありません。自衛隊が偵察任務用に開発した無人の小型偵察飛行機です。世界初となる球体の形状で屋内外を自由に飛行。小回りもききます。

カメラも搭載可能。しかも回転しながら着陸でき、そのまま回転して移動も可能。
ただ自動制御や遠隔操作機能に課題が残り開発を進めています。

問い合わせ
防衛省技術研究本部
住所 東京都目黒区中目黒2?2?1
http://www.tv-tokyo.co.jp/mv/wbs/trend_tamago/
This is the news of the JSDF's new small model reconnaissance aircraft. According to the reporter in the video, it's as small as a football and can follow anybody anywhere.
It can be equipped with cameras, and make a landing and continue to track someone by rolling along the ground.
Let's see the Japanese response!
108 :名無しさん@涙目です。(神奈川県):2011/06/08(水) 18:29:33.03 ID:U0bn/w9D0
想像より100倍凄かった。 It was 100x more amazing than what I expected

138 :名無しさん@涙目です。(関西地方):2011/06/08(水) 18:33:18.51 ID:zbWxjaak0
合成かと思った
怖すぎる
I thought it was faked
This is some scary shit



169 :名無しさん@涙目です。(東京都):2011/06/08(水) 18:36:48.87 ID:u8/i/tNI0
これすごいだろw
窓から部屋に入ってくるとことか、狭い階段のぼるとことか
マジすごい
Amazing!
When it comes into the room through the window, or when it's going up a narrow staircase
That's just too cool!
208 :名無しさん@涙目です。(大阪府):2011/06/08(水) 18:39:19.72 ID:0UNFyuPD0
時速60キロかよ
速すぎだろ
Seriously? Top speed 60km/h
That's way to fast

415 :名無しさん@涙目です。(dion軍):2011/06/08(水) 18:59:39.06 ID:dHS7q9wx0
球体でどうやって飛ぶのかと思ったけどプロペラを内部に格納したのか
面白いなこれ
I wondered how a sphere would fly, but it seems they've installed an interior propeller
This is pretty neat

418 :名無しさん@涙目です。(埼玉県):2011/06/08(水) 19:00:10.40 ID:AK35c+A70
うはwやべぇw
なにこの偵察機w
漫画かとおもたwww
Wow lol awesome
I would've thought a reconnaissance craft like this came out of a comic book lol

443 :名無しさん@涙目です。(関西地方):2011/06/08(水) 19:02:18.09 ID:Abja5pU60
未来キターーーーーーーーーーーー
The future is here!!!

580 :名無しさん@涙目です。(チベット自治区):2011/06/08(水) 19:20:38.15 ID:W40XdtkM0
着陸ワロタwwww
lol @ landing

629 :名無しさん@涙目です。(佐賀県):2011/06/08(水) 19:27:13.26 ID:V9Bvb8QS0
CGのように見えた
まるでスターウォーズ
It almost looks like CG
Just like Star-wars

747 :名無しさん@涙目です。(宮崎県):2011/06/08(水) 19:47:25.71 ID:acHZG/ke0
ちょっとこれ欲しいんですけど
I kind of want one
So, what's your opinion on this news story?
Let's learn Japanese!
球体 kyuutai
Sphere/Orb